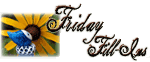 1. If we had no winter, we wouldn't see the magic of spring.

2. An English castle... drab, abandoned and eerie but adorned by Nature's flowers in very distinct colors is to me a perpetual astonishment.

3. If I had my life to live over, I would dwell more on the cheery side.

4. Tuck action plans for priorities inside of four and twenty hours.

5. If you've never been thrilled by anything, you're missing something somewhere somehow.

6. To be interested in the changing seasons try witnessing them in other countries.

7. And as for the weekend, tonight I'm looking forward to chatting with D, tomorrow my plans include Japanese brunch to precede Angels and Demons, on Sunday, I want to

get ready for my son's birthday party next week!